Concept
Scientists usually work collaboratively.
Edited by Taormina Lepore
Paleontologists Madeline Ess and Dr. Roxanne Banker are working together at the University of California Museum of Paleontology to answer questions about deep time.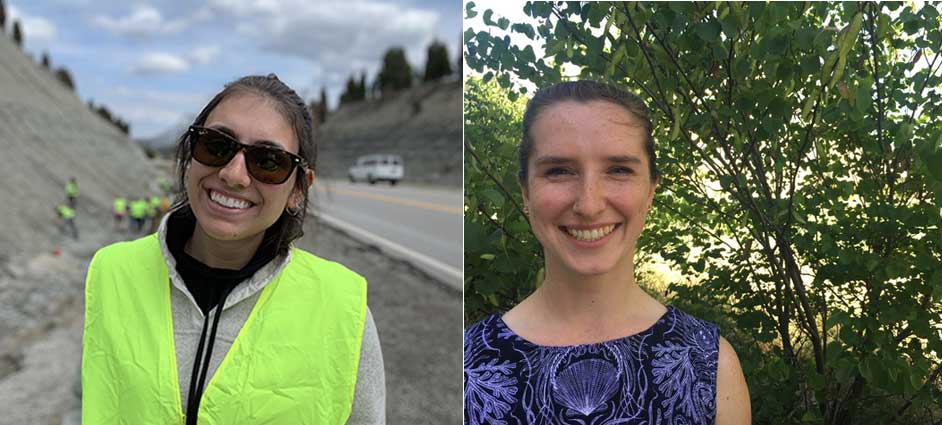 Madeline: I graduated from SUNY Geneseo, a state university in upstate New York, in 2019, where I majored in biology and geology. I started as a biology major but I realized pretty quickly that at my university, biology was less about doing things outside and much more about doing things with microscopes and tiny things. That wasn't something that interested me. I quickly became involved with the geology department, and the faculty was so welcoming and so sweet! Once I switched, it was game over from there.
The department hired a paleontology researcher after my first year there, Dr. Jackie Whitmer-Malanowski. She was so kind and so driven. She became my paleontology professor and mentor, and I started answering questions with her on fossil brachiopods and biology. Brachiopods are sea-dwelling animals with two shells that look a bit like clams. It's interesting to think I joined the geology department and ended up working on biology in the end!
Roxanne: In some ways, my journey is kind of similar to Maddie's. I was the kind of kid who was always turning over rocks and looking at bugs. When I got to college I was interested in biology, and I started working with Dr. Dave Goodwin at Denison University. He specifically wanted to work with biology students, even though he was more in the geology side of things. We were looking at modern freshwater clams to see if they recorded the temperature of the water around them accurately. They do! Working with Dave was really cool, because I could see how fossils and modern animals apply to the world at large, including applying to climate.
He also introduced me to conservation paleobiology, which focuses on understanding how past environments responded to changing physical circumstances so that we can better forecast how modern ecosystems will respond to human caused climate change. I was working with Dave as an undergrad, and I got to study abroad in Costa Rica. While I was there, it really hit home there that everything I was observing in the natural world there is connected. It got me thinking about how time has progressed and evolution has progressed, and that got me thinking about graduate school. I did a really different project in graduate school, I was working on how bacteria in oysters can give us information about how oyster shells grow. With my work after graduate school, I started looking at similar things, looking at food webs and how different critters interact with one another in their environment.
Madeline: The goal of the project we are working on now is to create a cdataset from the Ordovician Period, specifically something called the Richmondian invasion, around 454 million years ago.
Roxanne: This invasion happened when the sea level rose in ancient Ohio. This sea level rising caused a connection to open up between one ocean basin and another, and many species invaded into the new basin.
Madeline: This includes a TON of brachiopod species! And we'd like to have a more cohesive idea of what the food webs and interactions looked like with all these species. We are currently at 32,998 individual species occurrences making up our total data set! That's huge!
Roxanne: Yeah! Going back to the idea of conservation paleobiology, the rocks we're studying cover this biological invasion. We want to study how food webs changed before, during and after this invasion. This kind of change can impact what species stick around and which go extinct.
We've been collecting body size data on as many specimens as we can to try and figure out who was eating who and who was big enough to eat who else. Museums have so much data, and not much of it is publicly accessible, for example being available online. We're taking records of all the species and adding body size to the digital records we do have, so we can answer ecological questions from there.
Madeline: I've had the pleasure of working with Dr. Roxanne for 2 years over the pandemic…
Roxanne: What year is it now? [laughter]
Madeline: She's been an amazing mentor! We both bring a lot of things to the table. We bring a lot of biological and geological perspectives. We have really solidified some good methods for modern and fossil food web analysis, figuring out who was eating who.
Roxanne: Body size matters because all animals can only eat things that are their size, smaller, or only so much bigger than themselves. We can measure modern animal sizes and look at what they eat, and try to apply those rules to the fossil record. There is going to be data missing from the fossil record, but hey – there's data missing in the modern record as well! If you build a food web in the modern record, you'll be missing data too. It's all about an iterative process, you can always go back and add and refine more, but things don't have to be perfect. This is really important because modern ecologists only catch this kind of invasion during and after the invasion process.
Madeline: I will try to make the most perfect model. [laughter]
As Roxanne and Madeline's work demonstrates, modern science is most often collaborative. Today, scientists are likely to find themselves working together with their colleagues, mentors, and friends to build new knowledge about the natural world. These collaborations are essential to help generate new ideas and welcome more people into science fields.