To search for teaching materials that address particular concepts in our conceptual framework, visit the teaching guide for your grade level:
K-2, 3-5 , 6-8, 9-12, or College
Found 2 resources:
Grade Level(s):
Source:
UC Museum of Paleontology
Resource type:
Discipline:
Earth science
Life Science
Time: 2 hours
Overview
This activity (suitable for distance learning) is designed to introduce students to the nature and process of science through the discovery of mass extinctions in the fossil record. Students will explore the fossil record of brachiopods and bivalves using the Paleobiological Database, identify patterns in their data, and generate and evaluate hypotheses. They will also document this process using the Understanding Science flowchart. Clicking the link below will download the Word file for this lesson.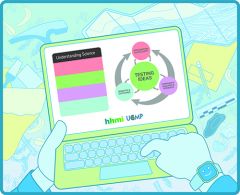 Grade Level(s):
Source:
Resource type:
field-based investigation
Discipline:
Time: Quarter-long project
Overview
This is an example of a student-driven, instructor-guided field experiments on a budget. Schools that cater to under-represented students are often those with limited resources, however, student-driven discovery in the field is an effective tool for engaging students in the natural environment and in hydrogeology. Effective strategies for addressing the special needs of urban students are included.