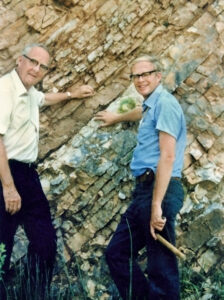 One of the key pieces of evidence supporting plate tectonic theory was the discovery that rocks on the seafloor record ancient reversals of the Earth's magnetic field: as rocks are formed where plates are moving away from one another, they record the current direction of the Earth's magnetic field, which flip-flops irregularly over very long periods of time. In these "flip-flops," the polarity of the magnetic field changes, so that a compass needle might point south for 200,000 years and then point north for the next 600,000 years. Walter Alvarez, an American geologist, and his collaborators were looking for independent verification of the timing of these magnetic flip-flops in the sedimentary rocks of the Italian Apennine mountains. Around 65 million years ago, those sediments lay undisturbed at the bottom of the ocean and also recorded reversals of the magnetic field as sediments filtered down and were slowly compressed over time.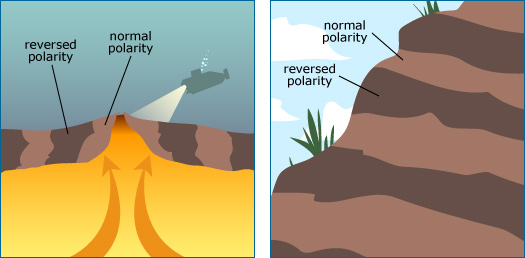 As Alvarez clambered up and down the Apennines, collecting samples for magnetic analysis, he regularly confronted a distinct sequence of rock layers marking the 65 million year old boundary between the Cretaceous and Tertiary periods — the "KT" boundary (from Kreidezeit, the German word for Cretaceous). This boundary was made up of a lower layer of sedimentary rock rich with a wide variety of marine fossils, a centimeter-thick layer of claystone devoid of all fossils, and an upper layer of sedimentary rock containing a much reduced variety of marine fossils.

Why the sudden reduction in marine fossils? What had caused this apparent extinction, which seemed to occur so suddenly in the fossil record, and was it related to the simultaneous extinction of dinosaurs on land? Alvarez was curious and recognized that answering such a difficult question would garner the respect and attention of the scientific community.