Once I analyzed the data from the owl pellets, my results were clear: the small mammal species richness was lower on Stanford campus (the more urban setting) than at Jasper Ridge Biological Preserve (the more wild setting) both 20 years ago and today. I also found that the Stanford campus communities (from an urban landscape) were less "even", meaning that they were dominated by one or only a couple of small mammal species.
For example, the graph below shows a comparison of small mammal remains from pellets collected in 1999 from Stanford campus and Jasper Ridge. The Jasper Ridge pellets included three small mammal taxa that were not represented on Stanford campus (woodrats, cottontail rabbits, and shrews), while Stanford campus had only one species that was not at Jasper Ridge (house mice). Human commensal species like house mice, Mus musculus, thrive in manmade environments. The graph also shows that the Stanford campus pellets were highly uneven; that is, they were mostly dominated by voles, which made up ~70% of remains in Stanford campus pellets. The relative abundances of small mammals at Jasper Ridge, on the other hand, were much more evenly distributed.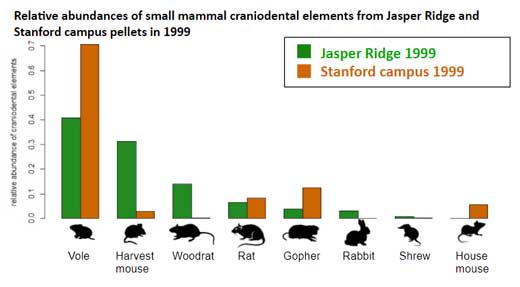 The most likely explanation for the differences in both species richness and evenness is human impacts. The urban site was consistently less diverse and less even than the "wild" one. Time was not an important factor: the mammal communities at the two sites didn't change much between 1999 and today. While this was interesting, the study only spanned 20 years. I wondered if time might have an influence after all if I could look farther back to a point before European influence.
Luckily, at that time I was taking a field course at Jasper Ridge and heard a guest lecturer talk about the archaeological history of the field station. The guest lecturer was Dr. Laura Jones, the Stanford Campus Archaeologist. From her, I learned that Stanford lands have a rich archaeological record, including a site at Jasper Ridge. Maybe I could satisfy my curiosity about deep history with archaeological data…